This is my favorite picture of my Babushka Veta; covered in deep wrinkles and all. Her face lit with a smile, with an attitude. Look at her: her arms crossed, her spirit unbending, her shawl tied in the back, and not in the front, unlike most women in her village. It's also special because this is the last picture of her alive. My daughter took it in 2005, when we traveled across the world back to our home country of Moldova, while visiting the family we left behind when we moved to America.
There are very few pictures of Babushka Veta in general, but only one picture exists of her in her youth, so I can only imagine how she looked back then. If my mother took after her, then she was gorgeous.
"Babushka, why don't you have photos from when you were young?" I asked her when I was a teenager. "Not even a wedding picture."
"It was during war," she said, referring to World War II. "There were no photographers in the village. At that time, we were trying to survive the famine, so we were thinking about food, not photos. Besides, your dedushka and I never had a wedding."
"Not even a little ceremony with your family?"
"What family? When I ran away with him…"
"Wait! You did what?" I asked her in shock. My grandma was always the picture of the perfect Christian woman: tough, strict, with high morals. To stumble upon a story like that, coming out of my babushka's mouth, was earth-shattering. Babushka smiled conspiratorially, but the cat was out of the bag.
"It happened in the last months of the war: April-May 1945. When your Dedushka Ivan's first wife died, his neighbors buried her before he even got the news. They sent him a letter to notify him about her death and advised him to come home and take care of his house and his horses before the villagers pillage it all. Dedushka had another wife? What else hasn't she told us?
"On his way from the war front, he stopped at his parents' house in the village where we lived. He asked his sisters to help him out until the war is over, because he didn't have kids or any other relatives in his village on whom he could rely on. Ivan's house was 100 kilometers away. Now, it will take you two hours by bus, but back then there was no transportation. It would have taken his sisters two days on foot to get there. Besides, they were both married with kids, so they said "no". But they came up with a solution: "Why don't you stop at Bordeniuc's house? We've seen their older daughter Veta in the fields. She works like a man. She'll be a good wife for you."
"Wait! He didn't even know you?"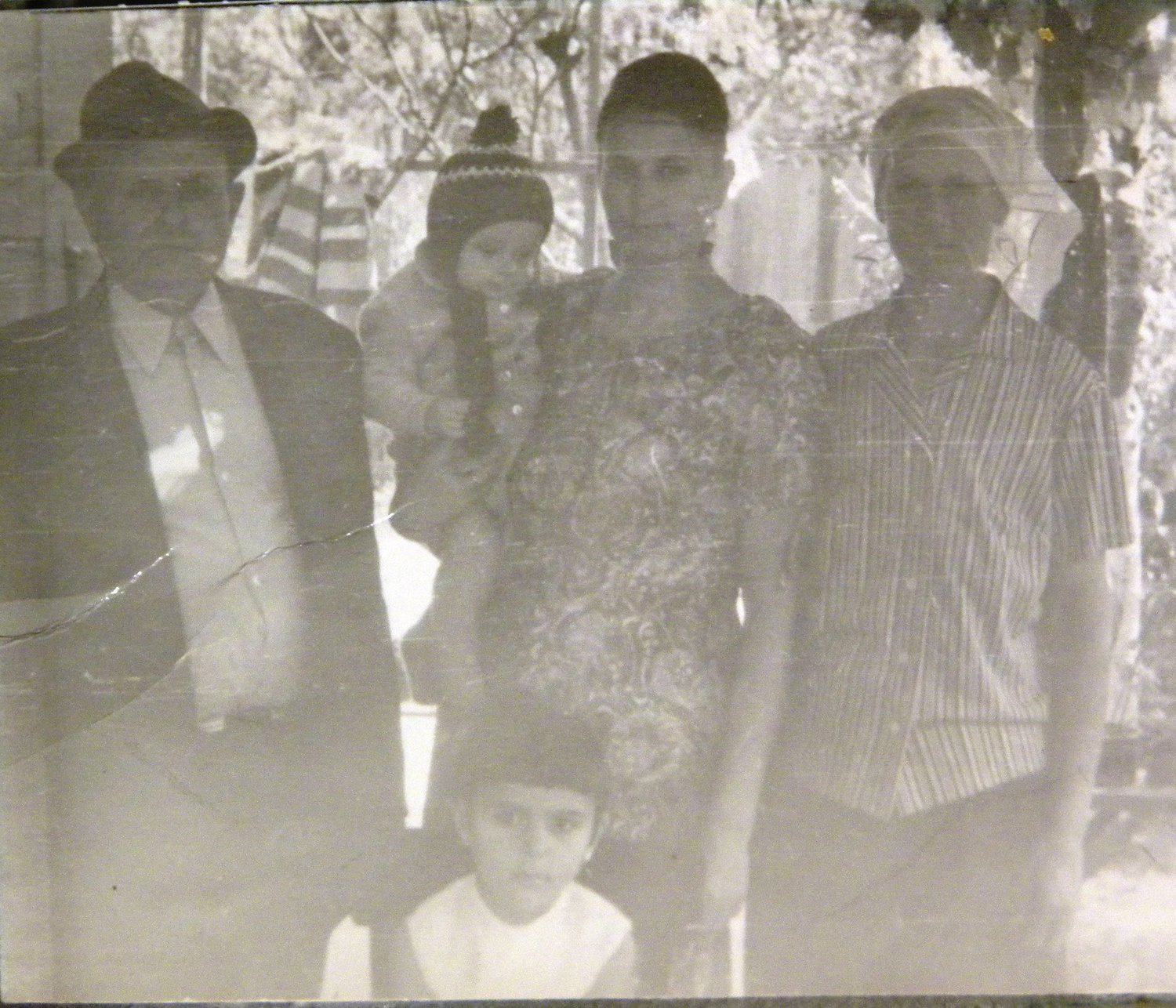 From left to right: dedushka Ivan, my mom with my brother in her arms, babushka Veta and me on the bottom.
"I didn't know him either. He was 20 years older than me. He left our village before I was even born." Mind-blowing!
"Ivan came to our house and asked my father for my hand in marriage. He categorially said: 'No. My daughter is 18 and you are a 38 year-old man. You are too old for her.' so Ivan left with nothing."
"Makes sense," I said.
"Please, my father was a drunk, hitting the bottle every night. Because of him, us, six kids in the house, had been working the fields for a piece of bread since we were seven. My mom was the smart one. She pulled me aside and said: 'Look, there are no men left after the war. If you don't marry now, you might never get a husband.' She went to talk to Ivan's sisters behind my dad's back to reconsider his proposal. It immediately became clear, that the only way to do it, without causing a scandal, was for Ivan to sneak me out of the village at night. Ivan said he would wait for me in his carriage at the ditch near the river, away from peoples' eyes, for an hour after it got dark.
I was shaking like a leaf, waiting for dad to go to sleep. For some reason, that particular night, the lunatic was too busy drinking, so he didn't go to bed at his normal time. Finally, when he passed out, mom put a few things in a shawl for me, tied its corners and told me to go. 'Whatever you do,' she said, 'don't come back unless you get married, because your father will kill us both.'  I ran, as fast as I could, barefoot through the fields. It started raining hard. The mud was sticking to my feet, but I kept running. I was afraid Ivan would leave without me, but he was still there. He waited for me for almost three hours, so I thought that was a good sign.
I jumped into his carriage and we left the village at midnight. Even with the carriage, it took us an entire day to get to his village. I kept quiet all the way, thinking: 'He promised to marry me, but who knows what he's going to do when he gets me to his house?' Besides, what if his house was just a shack and I'd have to live in it for the rest of my life? But his house was actually very nice for those times; it was spacious and well maintained. His late wife was a good housekeeper.
We arrived to his house at night. At that hour, there were no village officials awake to register our marriage. It was nerve-wracking to sleep under the same roof with a man, who wasn't my husband. I didn't want him to do any funky stuff before he married me, so I couldn't sleep all night. But he kept his word. In the morning, we went to the village hall and got married without a photographer or a wedding band, or guests. There were only three people in the room: us two and the officiant. That was it.
The rest is history. We lived together until the day he died. We had four kids. He really liked having kids, because he didn't have them with his first wife. He would play with them, and feed them. And though, he would hit the bottle from time to time, he was never an angry drunk, so I could say he was a good husband."
I'm so glad Babushka Veta told me this story. How else would I know that she was such a badass?